Who are we?
Saračević d.o.o. is a private company registered for wholesale of products and semi-products of ferrous and non-ferrous metallurgy. It was established at the end of 2002. and currently there are 55 employees in company. Company Saračević d.o.o. endeavours since its foundation to continuously enable its human and mechanical resources with aim of fulfilling requests of buyer.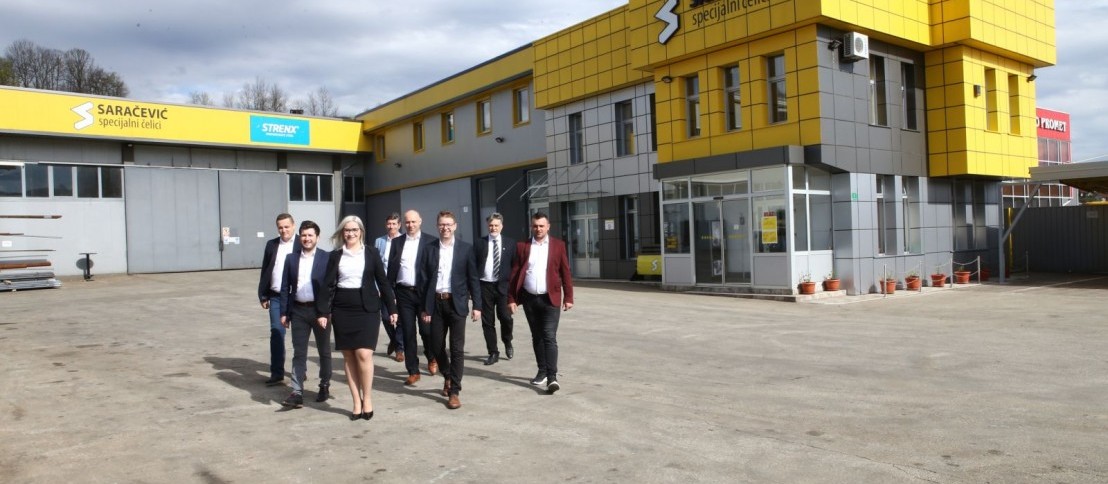 It started with the trade of consumer goods and in 2007 began to specialize in the trade of ferrous and non-ferrous metallurgy products. Exploring the needs of customers Saračević d.o.o. decides to create the conditions for the delivery of metal parts in the form, quantity and time required by the customer, so it buys the first saws for cutting and provides means of delivery.
The current focus in the business is on the sale and production of parts made of special steels with high mechanical properties and wear resistance, such as HARDOX®, but also other products of the SSAB group. The company is from 20.01.2012. the only certified HARDOX® WEARPARTS partner in BiH. The production of parts from these materials also required the installation of new capacities such as gas and plasma cutters, drilling and milling. In addition to meeting the quality requirements of parts Saračević d.o.o. strives to meet specific customer requirements such as very short delivery times, delivery of products to the customer and to be competitive.
Thus the production in Saračević d.o.o. achieves deliveries that the customer requests in hours, not days. In this way, the product acquires all the characteristics of a product-service. Precisely for these reasons Saračević d.o.o. invests great efforts in training human and machine resources for this type of production and manages to meet such requirements and achieve constant growth in the production of parts.
Today's capacities can provide the production of parts that require the following processing:
Laser cutting MESSER all types of steel up to 15 mm thick, dimensions 2500x12000 mm, fiber laser
Cutting on a CNC gas cutter of all types of steel, dimensions up to # 300x2000x6000 mm
Cutting on Prima Power PLATINO of all types of steel and stainless steel, dimensions up to # 4000x2000x15 mm
Cutting on a 3D CNC plasma cutter that also has TRUE HOLE technology of all types of steel with dimensions up to # 40x2000x6000 mm
Cutting of bars and plate material of all types of steel and non-ferrous metals, dimensions up to 800x1000 mm
Milling and drilling, table surface 600x800x1500
Bending of sheets up to 6 m long on a press of 320 t
Depending on market demands in terms of new technical requirements and larger quantities Saračević d.o.o. will continue to invest in equipment and human resources to be able to meet these requirements.
Contact us